Fun Things for Kids in Chicago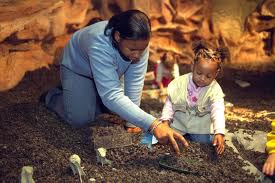 The number one cry that I hear from my own kids is "I'm bored." Vacation is typically a time for adults to get away from all the stresses of everyday life, but how can you enjoy yourself when all you hear is "I'm bored?" Well, in the windy city of Chicago, there is no room for boredom. On top of numerous things for adults to enjoy, there is fun for everyone young and old in the largest city in the Midwest. If you have kids, Chicago is just the city for a nice family vacation. Your kids will enjoy hands-on learning, outdoor adventures, and unforgettable experiences that will last a life time.
Younger kids are full of energy, and with energy come lots of touching and grabbing. Allow your kids to fully enjoy their experience with some hands-on fun. The following places are sure to keep wandering hands at bay:
The Museum of Science and Industry
As one of the biggest museums in the entire world, Chicago's Museum of Science and industry is jam-packed with more than fourteen acres of hands-on fun. Your kids are sure to love experimenting like the myth busters, exploring the only German submarine in the United States, and witnessing science in action in the five-story Omnimax theatre. Stimulating the mind with fun learning activities is how children learn best, so give your children something educational as well as fun this vacation.
The Chicago Children's Museum
With Children in its name, this museum is sure to keep your kids entertained all day long. With three floors of interactive fun, they won't even know they are learning. This museum is more the younger crowd, but adults have been known to have fun participating in the following exhibits:
• Play It Safe –Children learn home safety
• Artabounds Gallery – Family Art
• BIG Backyard – an "urban garden"
• Dinosaur Expedition – Expedition pit
• Inventing Lab – provides parts and instructions for creating unique gadgets
• Kids Town – a playroom recreating a Chicago neighborhood where kids can pretend to do things like shop for groceries and drive a bus
• Climbing Schooner – a climbing structure that resembles a ship rigging
• My Museum – kids get to create art projects that are all them
• Skyline – learn about skyscrapers and design your own
• Treehouse Trails – A play that looks like a forest
• Waterways – water activities demonstrating how pulleys, pumps, dams and rivers work
Enjoy your inner kid, or better yet just let the kids learn and have fun at the Chicago Children's Museums.