Beaches in the Windy City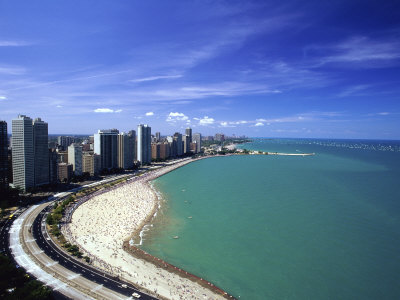 It is hard to believe that this windy, buzzing city has beautiful beaches, but you would be surprised how far Lake Michigan goes. Just because you're not in Michigan doesn't mean you can't go to Lake Michigan. With white sandy beaches and crystal clear blue water as far as the eyes can see, you may think you stepped into the Caribbean.
The best thing about Chicago beaches is that they are free and open for you to swim in from Memorial Day weekend all the way to Labor day unless otherwise noted. So, come rediscover the beaches of the windy city and take a dive into the deep blue lake as the sun radiates from your cheeks.
Oak Street Beach
With the clear blue sky with streams of golden sunlight, you can rollerblade, dive into the sand playing volleyball, or sun bathe on the white sandy beaches. Located on Lake Shore Drive at Oak Street, just miles away from the hustling and bustling of the city, you can experience total relaxation as you soak in the sun. Just get on CTA Bus #151 Sheridan Northbound and you will be on your way.
Loyola Leone Beach
Located on North Sheridan, Loyola Leone Beach is by far the largest in Chicago stretching a whopping eight blocks across the Chicago. With stroller beach mats, baseball fields, basketball courts, and a huge bike rack, Loyola Leone is a kid haven. Take a ride on CTA Bus #147 Outer Drive Express Northbound and head on down.
Evanston Beach
Perfect for romantic couples or a picturesque view of the city skyline. Take a midnight stroll or just enjoy the shallow water, grab an ice cream at the concession stand, or lie on the beach. Because of the shallow waters, it also makes for a good place to take the young ones for a swim. So hop on a bus and head Northbound towards Evanston Beach for a day of fun in the sun.
Beaches are fun during the sunny days as well as when the first start hits the sky. As the sun goes down you can watch the colorful hues of pinks, oranges, and blues of the sunset over the illuminating waters. Listen to the lullaby of the waves crashing onto the shores as the crisp breeze sweeps through your hair. The beaches in Chicago are filled with fun as well as tranquility.